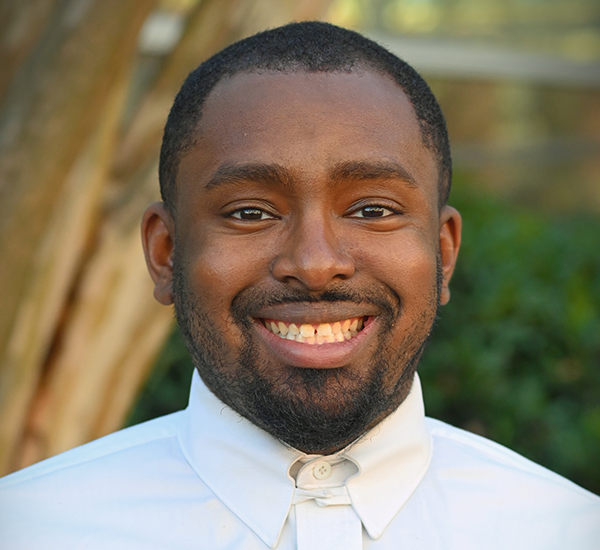 College of Liberal Arts & Sciences
Preferred Pronouns: He/Him
Current Graduate Program: English
Concentration/Area of Emphasis: Literature
Program Schedule: Full-Time
Delivery Method: Hybrid
Position: Graduate Assistant
Anticipated Graduation: May 2023
Undergraduate Institution: The University of North Carolina at Pembroke
Undergraduate Degree: English Literature
Favorite Place in Charlotte: Optimist Hall
Hometown: Apex, North Carolina
Dream Job: Professor
What has been your driving force for enrolling in your degree program?
I am currently pursuing an M.A. degree in English with a focus on Literature. I have always had an interest in understanding how different narratives have impacted the cultural and social structure of the community we live in. I have an ultimate interest in increasing the Afro-Latin American experience within the framework of literature by further exploring how the intersections of machismo, anti-blackness, and homophobia affect the identity development of Black and Latinx queer and trans men. My main driving force in enrolling in my degree program is the encouragement from my undergraduate professors and the guidance from my family, as well.
Why did you choose UNC Charlotte over other universities?
I chose UNC Charlotte because of the diverse and welcoming community that I had witnessed when looking at different schools for my graduate program. The mixture of small-town charm and the big city feel was what drew me to UNC Charlotte for graduate school since it allowed me to connect with different people on campus while focusing on the academic rigor of my degree program.
What has been the best part of your academic experience so far?
The best aspect of my graduate degree program is forming professional connections with my professors and classmates by discussing our different research interests that are connected with our degree program and applying those interests through the form of conference presentations and thesis projects.
How would you describe UNC Charlotte to someone considering a graduate program?
I would describe UNC Charlotte as a campus community that embraces an inclusive and diverse environment, committed to ensuring each student is connected with the resources needed to thrive academically, socially and emotionally. The graduate community at UNC Charlotte is close-knit and provides opportunities for students to connect and interact with one another through different social events and professional development.
What do you hope to accomplish this year in your role as an ambassador?
As a Graduate Admissions Ambassador, I hope to be able to connect with and convince prospective graduate students to attend UNC Charlotte as part of their graduate school career and learn more about the different opportunities of being a Niner. I also hope to learn new skills during my role as ambassador in connection to networking with different individuals and gaining additional insight about the UNC Charlotte Graduate School.