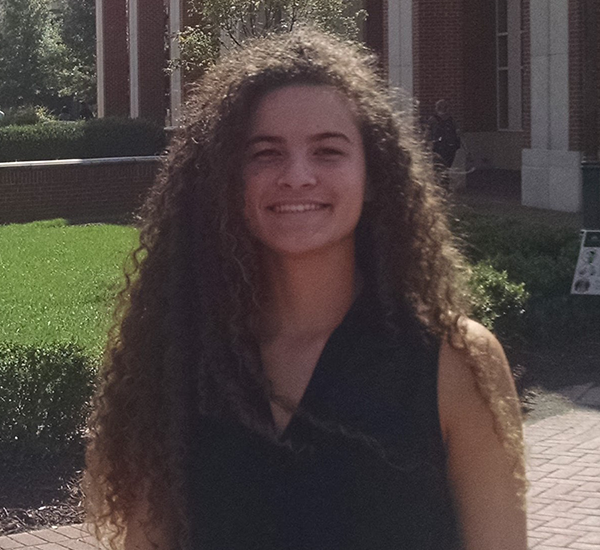 Cato College of Education
M.A. in School Counseling
Preferred Pronouns: She/they
Current Graduate Program: M.A. in Counseling
Concentration/Area of Emphasis: School Counseling
Program Schedule: Full-Time
Delivery Method: In-Person
Current Employer: UNC Charlotte
Position: UCAE Graduate Assistant
Anticipated Graduation: Spring 2023
Undergraduate Institution: The University of North Carolina at Charlotte
Undergraduate Degree: Psychology
Favorite Place in Charlotte: Whitewater Center
Hometown: Bessemer City
Dream Job: University Professor
What has been your driving force for enrolling in your degree program?
I am in the School Counseling program. The main reason I chose this degree was to be prepared to effectively counsel students in high school settings. I have worked with adolescents for many years in varying environments, but wanted to build my communication skills, learn about evidence-based practices to utilize with clients, and gain valuable experience working within the school setting. I knew this degree would best prepare me for a career in School Counseling.
Why did you choose UNC Charlotte over other universities?
Charlotte offers a quality education at an affordable cost. The campus is close enough to commute from home which helps lower the cost for me personally. Additionally, many of the professors go above and beyond their roles. They are knowledgeable about their fields, caring, compassionate, and offer a lot of great insight into counseling more effectively.
What lessons have you learned in your courses that you could apply on the job?
I work with the UCAE on Charlotte's campus. While this job is still on campus, much of the material learned in my degree has helped me more effectively communicate with my supervisors, co-workers, and supervisees. I have also been able to cultivate more empathy and compassion for others I interact with while at work. Additionally, I have gained general problem-solving skills, especially with regard to addressing interpersonal conflicts or concerns that may arise while at work. Lastly, I have learned how to better advocate for myself and others who may need it. This has helped me set better boundaries while at work and has helped me empower others.
What has been the best part of your academic experience so far?
All of the amazing people I have met through this program!
How would you describe UNC Charlotte to someone considering a graduate program?
UNC Charlotte offers quality education and training for an affordable cost. The campus also has so many resources for students to utilize if needed and various dining options. The professors are amazing and can be extremely helpful with any thoughts, questions, or concerns you may have. Especially for the graduate programs offered, the courses taught are challenging, yet help you grow, learn, and be the most effective worker you can be in your field. Additionally, the city has a lot to offer as well, with many amazing places to eat, visit, and take advantage of.
What do you hope to accomplish this year in your role as an ambassador?
To help others figure out their best options for continuing their education, to meet more lovely people while at Charlotte, and to build my communication and marketing skills.